Harvard/Yale Day with the Tampa Bay Rays
Join Harvard and Yale Alumni for a Family Fun Day with the Rays and watch them take on the Texas Rangers. Your opportunity to hear from Brian Auld, President, Tampa Bay Rays.
Harvard and Yale Alumni will enjoy a Day with the Rays as they take on the Texas Rangers
We will also have Guest Speakers meet with the group that include: Brian Auld, President, Tampa Bay Rays
Speaker Location: Left Field Meeting Room
Networking/Speaking Event before the game (12:00 PM). This will provide us with a social setting, where our speaker will be able to speak briefly and socialize amongst everyone. There is also a chance Matt Silverman may be able to join us.
The Left Field Meeting Rooms are right before the Left Field Terrace. When coming into the stadium for the pregame meeting, enter through Gate 4 which will be the only gate open since prior to all gates open. The meeting room will be on your lefft. After 11:10, can enter through Gate 6. This will also be easy access for going to your seats to avoid heavy traffic near the elevator. Attached is a map of the stadium, the Blue Circle is the Left Field Meeting Rooms and the Red Circled area is the Press Level Party area where we will be sitting.
Sitting/Viewing Area: Press Level Party Area
The Press Level Party Area, circled in red, has a large mingling area and a block of seats in the sections that you can go up and down as you please. There will be high tops and the space 2 suites that have been blown out to be open to the whole area.
NOTE: Food is not included in either the Left Field Meeting Rooms or the Party Area, there are concession stands in the Press Level and the First Base Food Court.
Tickets are $50 each
Deadline to purchase is: Friday, July 14
Game Day: Sunday, July 23, 2017

PreGame Meeting: 12:00 PM (Enter through Gate 4)

Gates Open: 11:10 AM (This is when the Festivities begin for Family Fun Day)

First Pitch: 1:10 PM
Reserve your seats today by contacting:
Rays Representative: Megan Paul Tel: 727-825-3329

email: mpaul@raysbaseball.com
Tickets are subject to availability. Discounted ticket price not available after the deadline.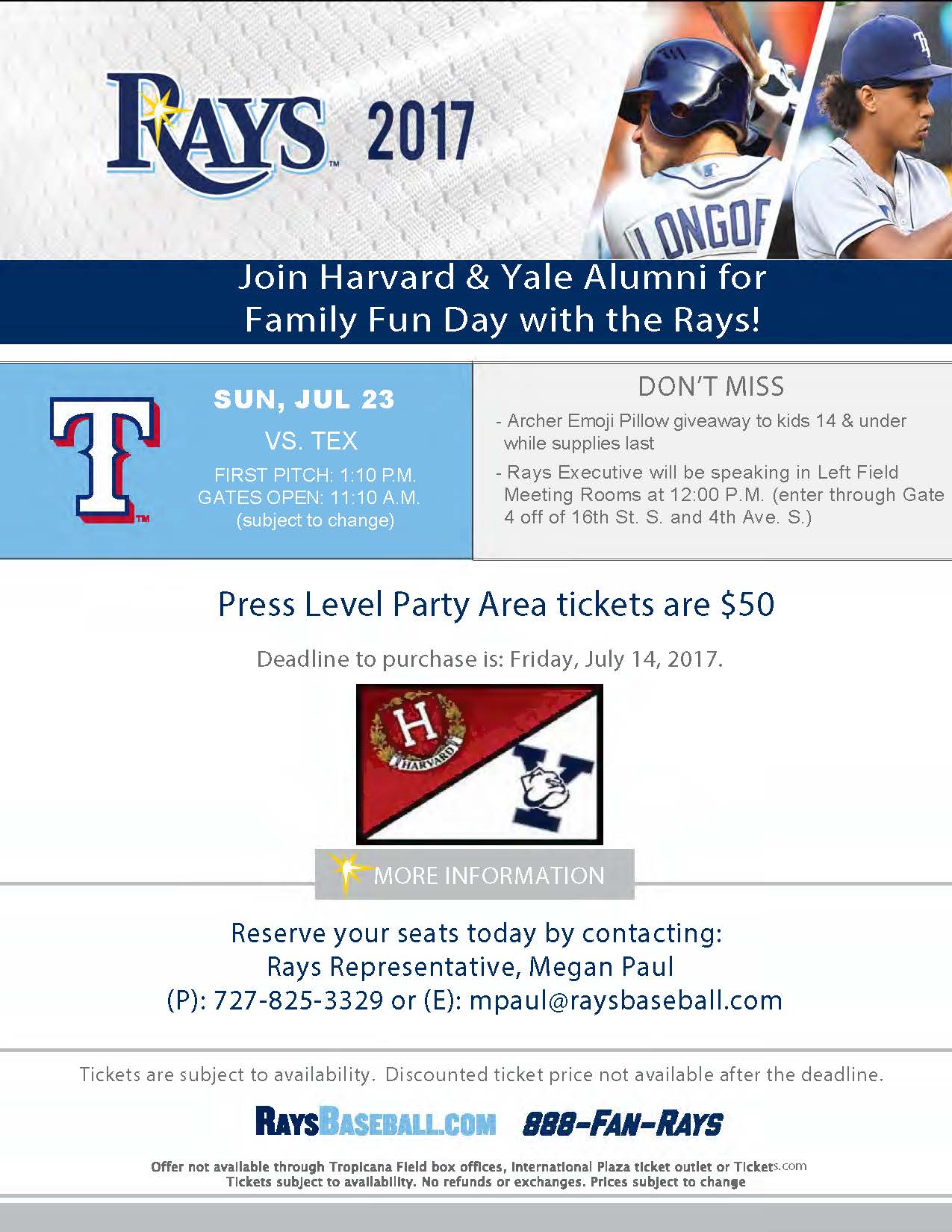 ---