Harvard/Yale Family Fun Day with the Tampa Bay Rays
Join Harvard and Yale Alumni for Family Fun Day with the Rays and watch them take on the Baltimore Orioles. Hear from Guest Speaker James Click, Director of Baseball Operations.
Harvard and Yale Alumni will enjoy Family Fun Day with the Rays as they take on the Baltimore Orioles.
We will also have Guest Speakers meet with the group that include:
James Click, Director of Baseball Operations


Location: Left Field Meeting Room
Networking/Speaking Event before the game (10:30 AM). This will provide us with a social setting, where James will be able to speak briefly and socialize amongst everyone.
The Left Field Meeting Rooms are right before the Left Field Terrace. When coming into the stadium for the pregame meeting, enter through Gate 4 which will be the only gate open since prior to all gates open. The meeting room will be on your right. After 11:10, can enter through Gate 6. This will also be easy access for going to your seats to avoid heavy traffic near the elevator. Attached is a map of the stadium, the star is the Left Field Meeting Rooms and the 51-57 is the Left Field Terrace.


In addition to a great day at the ball park, the event includes:
Free Parking for cars of 4 or more passengers
Kiermaier Claus Bobblehead giveway to kids 14 and under while supplies last
Rays Touch Tank in Center Field
Ted Williams Museum

A Variety of activities for kids on the concourse (Face Painting, Air Brush Tattos, Magicians, Stilts, Jugglers, Grand Slam Alley, Strike 'Em Out Home Run Derby) For More Info
Kids run the bases after the game
Lower Level Tickets are $35 each and includes Rays hat with Purchase
Deadline to purchase is: Friday July 8, 2016.
Game Day: Sunday, July 17, 2016

PreGame Meeting: 10:30 AM (Enter through Gate 4)

Gates Open: 11:10 AM (Kids Events Available, some end at First Pitch)

First Pitch: 1:10 PM
Reserve your seats today by contacting:
Rays Representative: Megan Paul Tel: 727-825-3329


email: mpaul@raysbaseball.com
Tickets are subject to availability. Discounted ticket price not available after the deadline.
---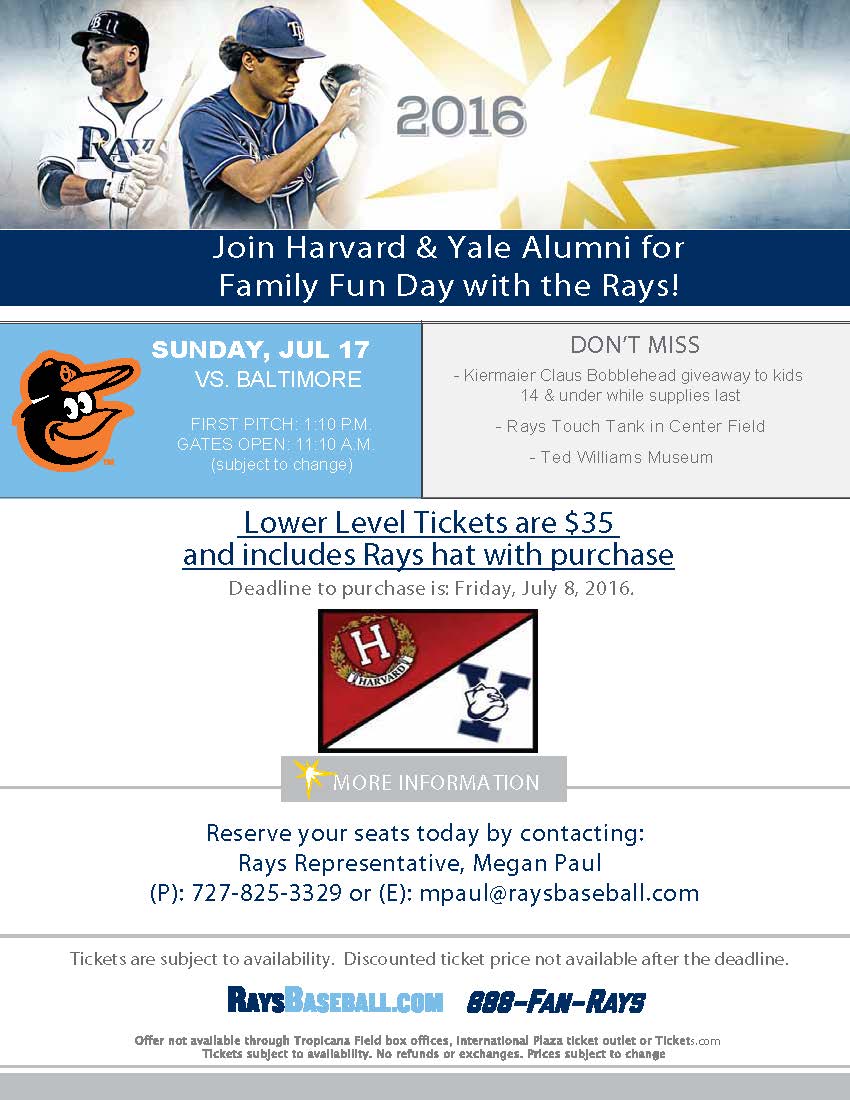 ---